Background
COFFI Co is based in South Wales and its popular hospitality venues all serve food and drinks (including coffi to its #coffihead regulars) from quirky and creative environments. Set in stunning locations the venues have all been specially selected for their great views and are open late into the evening. The management were seeking an outdoor heating solution to enable their customers to continue to enjoy the views in comfort. The environments also host live music and events.  Penarth seafront and Gin & Bake, in the heart of Cardiff Bay, are 2 of their locations with heaters for the outside seating areas.
Solution
Herschel Miami (2kW low glare heaters) and Manhattan (3kW low glare heaters) have been installed at the locations and are ideal for heating outside seating areas. With flexible mounting options available the powerful heaters provide instant heat from stylish finishes that are unobtrusive within the terraced areas. The COFFI Co locations have covers added to the outside seating areas to create the perfect spaces for enjoying time outdoors.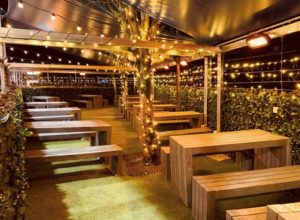 Testimonial
"Our garden in Gin and Bake seats 12 tables of 6. Penarth roof top has 22 tables outside split between a roof and front terrace.  With the unpredictable Welsh weather the heaters are working as a life saver for outside seating. The sun goes down around 5.30/5.45pm at penarth seafront so people can now stay for the evening in the warm rather than want to go and sit inside. They can enjoy the sea view". Aimee, COFFI Co.