Background
Racks is a popular bar and kitchen in Bristol, UK. The management got in contact as they were seeking heating for their large outdoor terrace area. The Covid-19 pandemic situation and requirement for outdoor socialising has led to outdoor areas becoming a crucial lifeline for many bar owners and restaurateurs. Racks has created The Pavilion, a brand new pop-up covered terrace – branded as Bristol's new premium heated outdoor space.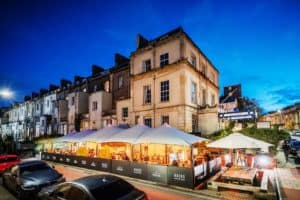 Solution
For the colder months the bar owners have now added a stretch tent that has been designed to perfectly suit social distancing requirements.  Herschel Manhattan infrared heaters have been installed throughout the covered, outdoor terrace area creating a very inviting and cosy space for clients over winter.
The 3kW Manhattan heaters have Herschel's premium low glare heating lamps, ideal for instant heating of outdoor bar spaces with fast warm up times. They also have mirror aluminium reflectors preventing rearward heat loss. The manager of Racks, Jamie Atherton, has been so impressed with their heaters they are now being installed within their other hospitality premises, including The Secret Garden which can be seen here.
Both Herschel Infrared and the Racks management recently featured within the UK's Financial Times:
'Executives in the UK hospitality industry say that outdoor heated space will be vital to their fortunes once they are allowed to reopen. Jamie Atherton, general manager at Quarter, a Bristol-based independent group of bars, hotels and workspaces, which created outdoor areas with heaters at two venues and plans to reconfigure more space during the lockdown, is unequivocal. "We do this or go down," he said.'
Testimonial
"We set out to create outdoor spaces that have a real wow factor and the Herschel team really stepped up to help with this.  We have used Manhattan heaters to achieve all round heat in stretch tents. Not only do the heaters look great but they give off a captivating warming glow which has made our spaces feel cosy and inviting." Jamie Atherton, Racks, Bristol