Heating home extensions
The most pragmatic solution to heat home extensions
Herschel Infrared heaters make the most practical solution for heating home extensions because unlike central heating they do not require any extension of existing pipework. Also, unlike underfloor heating there is minimal installation required, just simple electrical wiring easily carried out by your electrician. The heaters are so low-profile, you also do not need to sacrifice any of your precious extension space to a cumbersome unit (unlike Storage Heaters and most convection heaters).
With very little prior planning other than their positioning and provision for wiring, Infrared Panel Heaters can be installed very quickly and easily and can be as obtrusive or discreet as you need. Ceiling mounting of white panels is very popular, as used on "Your Home Made Perfect" (see the feature image) or you can chose a picture heater showing your favourite photo or a mirror heater. Because they directly heat the entire room, floors and walls will not get cold – they even prevent tiled floors from getting cold.
The heaters are solid state, with no moving parts and so are maintenance free. You have no risk of leaks and no risk of having to take up floors for repairs in the future.
Browse Heaters
Select XLS – White Frameless Infrared Panel Heater

View Range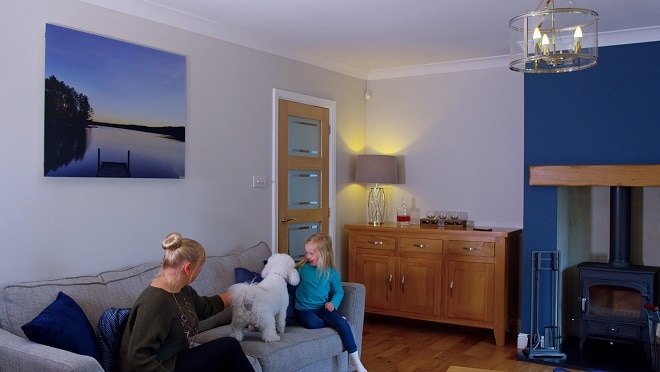 Heating home extensions - made easy
Infrared heating has the following additional benefits when heating home extensions:
Controllability: Quite often the extension is an occasionally used room like an additional bedroom or a conservatory. In these cases you do not want your heating running on the schedule of the rest of the house. This is where Herschel's controls come into their own, since every heater can be individually controlled, placed in an economy mode or even switched off.
Scalability and portability: Herschel's solutions are easy to scale with your increasing house size, as you can easily add more heaters. If you purchase our White Select XLS panels with the optional Feet and T-PL plugin thermostat, you can also have a more portable, temporary solution to provide top-up heating just where you want it.
Inspiring ideas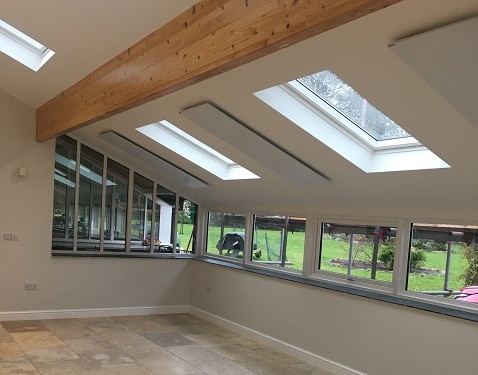 Ideas for Heating Home Extensions
Find Inspiration
Ideas for Heating Home Extensions
Customer Testimonials
"Instantly impressed"
"We were instantly impressed with the quality and appearance of the Herschel panels and have had great feedback from visitors on how good the panels look.  With the PV installation, insulated cavity, highly insulated roof and new double-glazed windows throughout, we have no doubts the system will perform really well".
"Part of the ground breaking BBC 2 TV show"
As the garden room & garage designed for us by architect Laura Clarke as part of the ground breaking BBC 2 TV show "Your Home Made Perfect" was both contemporary & minimalist in style, we knew we needed to find a range of fittings & furnishings to match. Consequently when Laura suggested Herschel's infrared panels & showed us how versatile they were, we thought they could work very well in our new build. Whilst we liked idea of rimless white panels that could be controlled to suit when we used the room, they are so much better than we'd imagined ! However the best thing about them is that by siting them on the ceiling, they are not only unobtrusive, but automatically free up all the wall space to use flexibly. The result is a very spacious & visually uncluttered room that is not only cosy in winter as a place to work from home, but also to relax in an evening or on the weekend. We couldn't be happier !
"Best heating I've ever had"
Fabulous heating system. Best heating I've ever had.