Heating passive houses with Infrared
Perfect heating for energy-efficient houses
Infrared is the perfect low energy solution for heating Passive houses due to their high insulation levels and other energy efficiencies. Infrared can be appropriately scaled to meet the low heating needs of each room. As Architectural Designer Charlie Luxton recognised when choosing Herschel for his own eco house project, there was no point investing in an expensive heating system like a heat pump, when the heat requirements of the building were going to be so low.Herschel Infrared was therefore idea for providing the background levels of heat required as well as being slimline and unobtrusive. The wiring could easily be planned at first fix stage and the panels could be easily fitted after decorating, avoiding the disruption, cost and complexities of underfloor heating or heat pumps. Unlike air and ground source heat pumps, Herschel panels have a low carbon footprint during manufacture, have no harmful gases, are maintenance free and are 97% recyclable at end of life.
The zero carbon 'COP26 House' was built in Glasgow for the Climate Summit and is a perfect example of how Herschel heating provides the ideal solution for well-insulated, passive homes.
Browse Heaters
Select XLS – White Frameless Infrared Panel Heater

View Range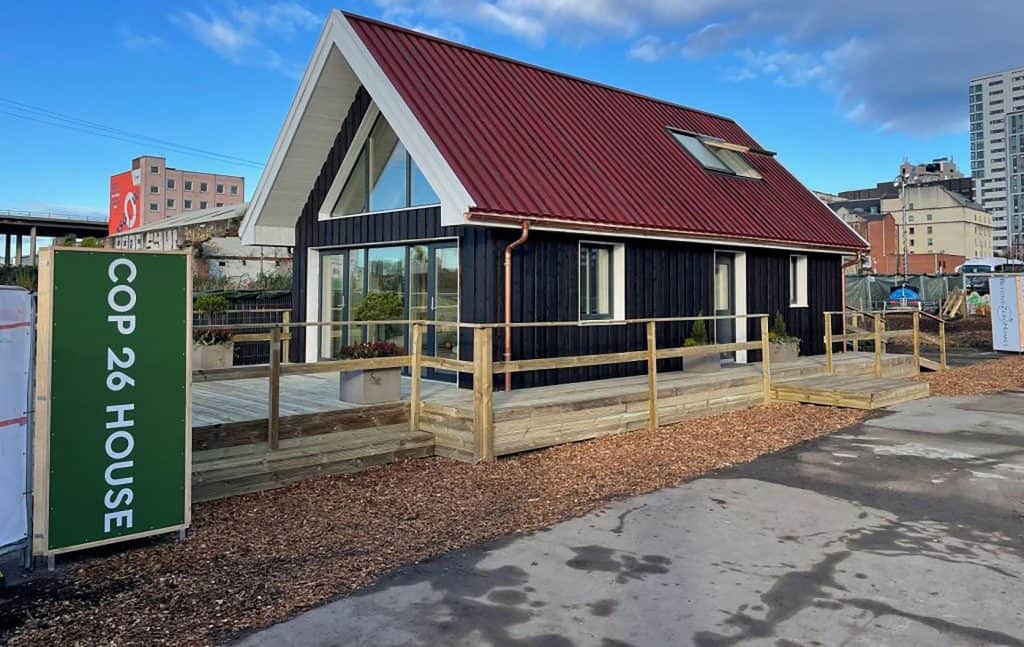 CO2 free when used with renewables
Chances are with Passive Houses that the total wattage of the Infrared heating will be less than the capacity of Solar PV that could be generated from the roof. The electricity generated would be free and CO2 free, and provide effective levels of background heating during the day, switching off when you don't need it overnight.
Precise control is provided by the Herschel room by room thermostat with full APP controls.  Upcoming SAP10 legislation is very likely to recognise the use of direct acting electric heating as a pragmatic heating solution for passive houses, due to the very low energy requirements of the building itself.
"The greenest kilowatt is the one you don't use".
Inspiring Ideas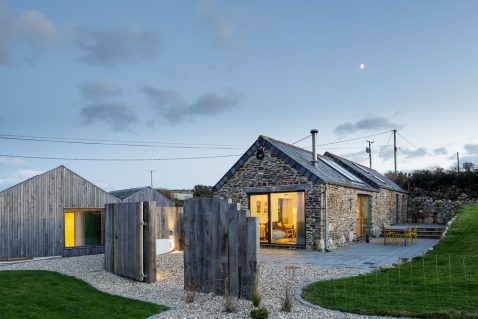 Charlie Luxton's Eco Self Build
Find Inspiration
Charlie Luxton's Eco Self Build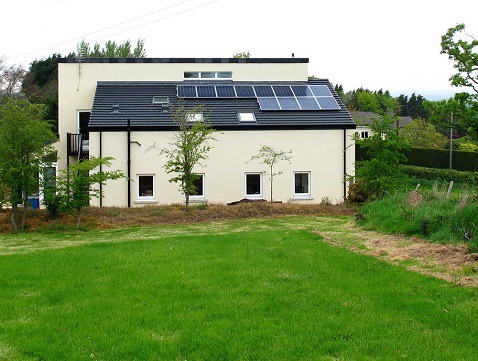 Passive house design with Herschel Infrared
Find Inspiration
Passive house design with Herschel Infrared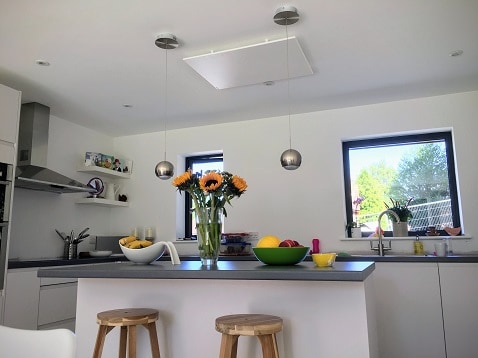 Heating for renovation projects
Find Inspiration
Heating for renovation projects
Customer Testimonials
"Go for infrared!"
"I started to plan my home refurbishment in the Summer of 2016. My priorities were comfort and sustainability. The project involved insulating an old, solid stone house, upgrading the glazing, electrics and heating, plus an extension. I visited Andy and was able to see infrared heating panels and solar working together, so decided to go for both.
Although it's early days, the heating seems very economical to run. The solar contributes to running cost savings and we also use the spare solar electricity to heat water so my home is future-proofed. The whole house is zoned and controlled with Herschel iQ thermostats so I have the heat I like when and where needed. The house is extremely comfortable, and because of the insulation and infrared panels, we operate the system at only 16-18degC air temperature, but still feel warm.
We experienced a range of challenges during the project, but the infrared was the simplest system to integrate with the programme, and the support from the Herschel team was exemplary at all times. The Select XL mirror units, and ceiling mounted panels look great and free up lots of wall space, which really helps in some of the rooms. I also like the zero maintenance of infrared, it's both hi-tech yet very simple to live with. I'd urge anyone undertaking a new-build or refurbishment project to get in touch with Herschel and go for infrared"!
"Exactly what I wanted"
"Just to say I love the heaters! Completely surpassed all my expectations already. Exactly what I wanted but even better than I anticipated. I will definitely recommend them".
"Warm & comfortable" Charlie Luxton
"I wanted an efficient, cost effective and easy to install electric heating solution to complement a solar PV installation for my recent eco selfbuild in Cornwall and the Herschel infrared panels fitted the brief perfectly.
We are half way through our first winter and the panels are exceeding expectation, the house is warm and comfortable without knowing where or how it is being heated. The internet control and monitoring is fantastic, allowing us to pre-heat the house before anyone arrives and we can check temperatures of rooms when no-one is there, giving us peace of mind".